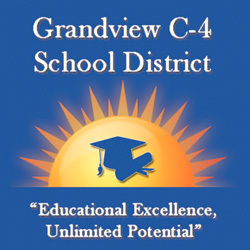 School Bus Driver
Sorry, this job has expired.
Grandview, MO
Grandview C-4 School District is now hiring a Bus Driver to provide safe and efficient transportation so that students may enjoy the fullest possible advantage from the district curriculum and extracurricular program.

In this position you will report to the Director of Transportation.
• High school diploma or equivalent plus ability to operate school bus and related equipment.
• Good driving record
• Eligible for CDL and School Bus Driver permit
• Must obtain Criminal Justice Fingerprint/Background Clearance
• Perform pre-trip inspection to ensure safety of assigned vehicle and cleanliness of interior.
• Transport students. Train students on regulations, emergency procedures, safe loading and unloading procedures and safe riding.
• Maintain discipline on buses. Hand out discipline slips, call parents, meet with the principal.
• Train a minimum of 8 hours a year to keep updated on state laws and regulations, safety procedures, new methods of transportation and student safety.
• Responsible for good public relations with school patrons, students, parents, administrators, teachers, director, and co-workers.
• Start the bus to ensure that it is warm in inclement weather and that windows and mirrors are clean for safe viewing.
• Obey all traffic laws.
• Observe all mandatory safety regulations for school buses.
• Keep to assigned schedule.
• Check bus before and after each route for students and articles. Post "No Student on Board" signs when returning to bus lot.
• Notify the proper authority immediately in case of mechanical failure or lateness.
• Discharge students only at authorized stops.
• Exercise responsible leadership when on out-of-district school trips.
• Transport only authorized students.
• Report all accidents immediately and complete required reports.
• Continually focus on safe working and operating procedures to ensure the safety and well being of others.
• Attend scheduled monthly safety meetings and orientation.
• Keep route updated as needed and give suggestions for improvements.
• Must have the ability to establish and maintain good rapport with students, parents, supervisor and fellow workers.

We are an Equal Opportunity Employer.
8676